From Mainframes to Distributed Computing: notions in technology that stand the test of time.
Posted by
Jose
on October 14, 2008 in
It is not unusual to find an article, blog, comment, or even a keynote address, from an purported expert in technology who presupposes that an implicit self-description as a 'geek' vests upon his/her words an unchallenged authority to blast technology of the past as outdated --irrelevant to the modern day computing landscape and information technology practice. The actual fact of the matter is, needless to say, that such gibberish by individuals of such narrow perspective add nothing of value; instead these individuals reveal their blatant ignorance of the subject they purport to treat with their self-serving air of authority.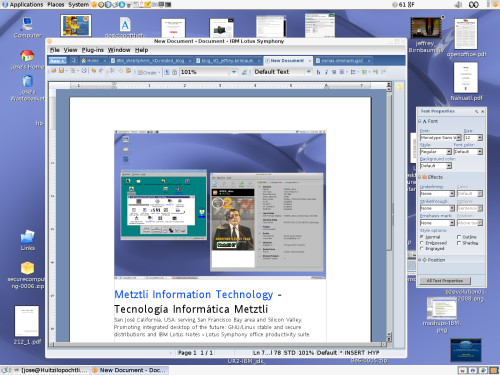 Take for instance an article that appeared on OSnews sometime ago where the individual, whose characteristics I may have described above, is "glad" because IBM refused to open source the OS/2 code base. He was referring to a petition, sponsored by the OS/2 World Foundation, in which the basic premise is that sound old notions in technology, as those conveyed by the OS/2, remain relevant and represent a valuable addition to modern computing --especially for open source software (OSS).
Accordingly, it was refreshing to listen to Jeffrey Birnbaum's keynote address at the August 2008 LinuxWorld event in San Francisco California: Stateless Computing: Scaling at Zero Marginal Cost.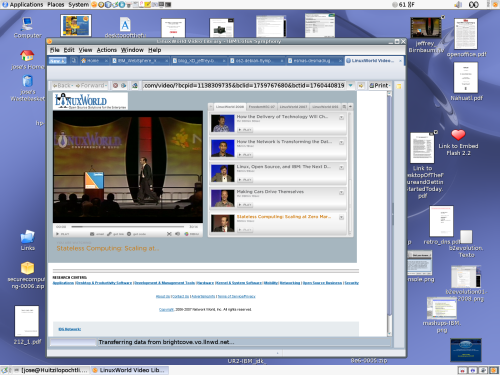 Jeffrey recognized that three aspects of the old (implicitly stated)1 IBM mainframe era have become relevant once again in the context of distributed computing that pervades his notion of "stateless computing' --a core tenet of the so called 'cloud computing' modern paradigm, according to him. Those (aspects) are virtualization (the most well known of the three), Workload Management (WLM), and Software distribution.
[object:flash:http://services.brightcove.com/services/viewer/federated_f8/980795693 width:486 height:412]


Mr. Birnbaum's keynote address emphasized the importance of the mainframe centralized (computing) stored state --as most relevant to modern computing-- and criticized current IT practice of blindly following yesteryear's outdated practice of maintaining computing state stored at individual dedicated server units in the data center, as well as at desktop endpoints. This notion of storing the computing state at the physical computer entity began to take hold in the early 80's, at the dawn of the PC era, Jeffrey noted.
That practice survived the 90's attempt to replace the former limited perspective for an more sound equivalent even in the face of the challenge to the old paradigm enunciated as the network is the computer. Jeffrey noted that 'for some odd reason' those (mainframe) 'good ideas' were discarded by the IT industry which blindly embraced the rather more complex, and costlier in the long run, prevailing practice that even now certain software monopoly, whose old business model remains rooted in localized software installations, continues to promote.
As an instance of the current outdated and inflexible model, heavily promoted by the above referenced software monopoly, I might cite Mr. Birnbaum's observation that applications designed to execute on those closed source operating systems even need to have their 'registry' embedded (or attached) somehow. In effect, this kind of cumbersome dependence on that equivalent form of umbilical cord to the monopoly's proprietary operating system(s) simply showcases an advantage of GNU/Linux operating system distributions and applications.
In effect, OSS offerings do not depend on such 'registry' --their availability (or exposure) on an network file system (NFS) is all that is needed to stream those (open source operating systems and applications) to endpoints. GNU/Linux was designed as an operating system for the network is the computer paradigm. Hence, it may be stated that the modern computing notion of 'cloud computing' and 'stateless computing' are natural environments for GNU/Linux distributions and its applications.
IBM WebSphere eXtended Deployment (WXD): Bringing Back Battle Tested Technlogy from the Mainframe to Distributed Computing and the Cloud.
Moreover, listening to Mr. Birnbaum's ideas and their purported partial implementation at Merril Lynch (before the financial organization was acquired, I presume), I could not help but associate those to a current IBM WebSphere offering that enhances an enterprise Quality of Service (QoS) and provides features to optimize enterprise IT resources: IBM WebSphere XD V6.1.
Well, WebSphere XD is actually a suite of three components:
Virtual Enterprise (used to be named as Operations Optimization)- will manage heterogeneous application servers in clusters in addition to IBM WebSphere Application Servers (WAS). Virtual Enterprise will augment WebSphere Network Deployment (ND) product and will provide application server virtualization, resource management, application editions management, and autonomic features to maintain the health of those monitored resources. These dynamic operations features will even extend to PHP servers (specifically those operating on the ubiquitous Apache web server) as well as application servers from other vendors. The focus of WAS XD is to consistently maintain service level agreements (SLAs).
Compute Grid- for those processor and/or memory intensive grid or batch jobs that may need to be processed less frequently, WebSphere XD Compute Grid will integrate those resource hungry jobs smoothly into the transactional application patterns so as to autonomically help maintain stated SLAs in a heterogeneous environment.
eXtreme Scale (used to be named as Data Grid)- this set of high performance caching and transaction partitioning capabilities, known collectively as ObjectGrid and WebSphere partitioning facility (WPF), is analogous to the enterprise file system that Mr. Birnbaum elaborated in his keynote address. An enterprise dynamic operations and its ability to manage transactional workloads will be enabled to be scaled linearly and with an almost full 100% availability.
In effect, the IBM WebSphere XD high performance, high availability, and highly scalable resource utilization, is much more than the limited enumerations above listed and I would recommend that you contact us to request more information and/or for a no cost initial consultation.
1Notwithstanding, IBM has modernized the mainframe with more powerful processors and storage to consolidate out of hand x86 sprawl. IBM has integrated features like providing support for certain GNU/Linux operating system distributions and power saving; hence the IBM current mainframe offerings provide a compelling powerful and cost effective alternative to unreliable x86 hardware server deployments of the sort that Mr. Birnbaum advocated in his model.
DISCLAIMER
The opinions expressed in this blog are not necessarily those of Metztli Information Technology as a whole. The information regarding products and or services may be subject to changes and/or modifications in the future. Further, due effort has been expended to express accurate information and/or opinions but Metztli Information Technology will not be responsible for inaccuracies and/or omissions.

This entry was posted by
Jose
and filed under
Virtualization
,
Linux
,
Current Trends
. Tags:
compute grid
,
extreme scale
,
gnu
,
ibm
,
linux
,
linuxworld
,
mainframe
,
open source software
,
os_2
,
oss
,
virtual enterprise
,
virtualization
,
websphere
,
wxd
,
xd
.
1 comment
I just stumbled upon your blog after reading your blog posts wanted to say thanks.i highly appreciate the blogger for doing this effort.