OS/2 Warp 3 Connect under Metztli Reiser4 built VirtualBox 6.1.34
All IBM fixpaks applied to OS/2 Warp 3 Connect, as well as the EMX runtime and GNU utilities installed. Gradd97 video driver has been applied, and selected resolution is 1024x768.
The public domain Korn Shell environment gives the OS/2 command shell a UNIXish touch -- which I prefer over the default OS/2 shell/command.
Background Image
Initially, I had used Gimp to convert a background image into BMP -- the format OS/2 Warp 3 accepts as default. It did not work as OS/2 failed to recognize it. Subsequently, I tried CorelDRAW v2.5 for OS/2 2.x but application was unable to convert a JPG into a BMP image -- complaining about lack of memory (1024-2048 MB RAM!) for such 'large file' and crashing. Finally, I used ImpOS/2 to convert a JPG image into a BMP and... it worked fast!
Obviously, 'not your father's (nor IBM's) OS/2' -- a modified cliche.
(To view in larger dimension, once the video starts, you can right select (click) on it and choose 'Open video in new tab' from the ensuing menu.)
Recently, I experienced an issue with Terminology 1.12.1, which is a component of Enlightenment window manager; using the fc command under Zsh to edit a previously entered command did not inherit the font color set in Terminology but the font color became black as the editor background. The result is that the command to edit is unreadable. Additionally, if I exited the editor with :q the command pasted into Terminology would inherit the black fonts in the editor instance, i.e., unreadable on a dark/black shell background.
Correction: seems to affect only a Metztli Reiser4 / Debian Buster Terminology build only.
As a matter of fact, I had been extensively using the fc command with the public domain Korn shell (pdksh) under OS/2 Warp 3 Connect without issues: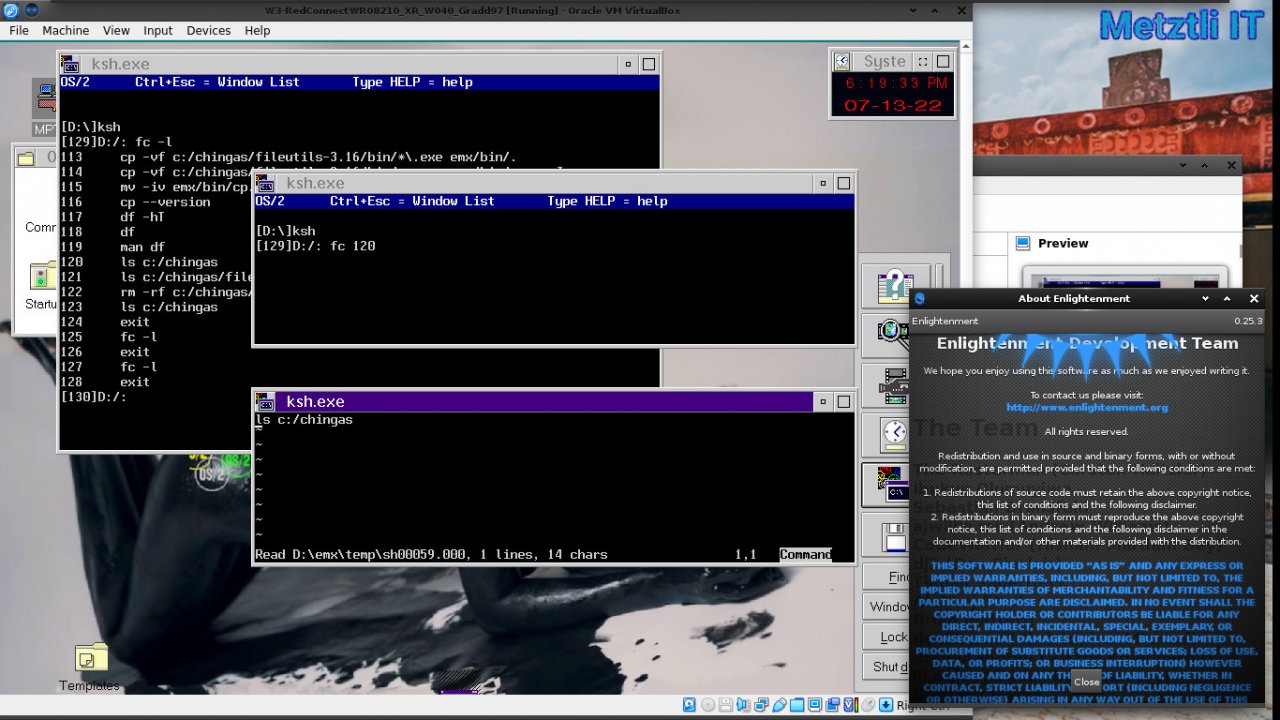 arrows show the order of events: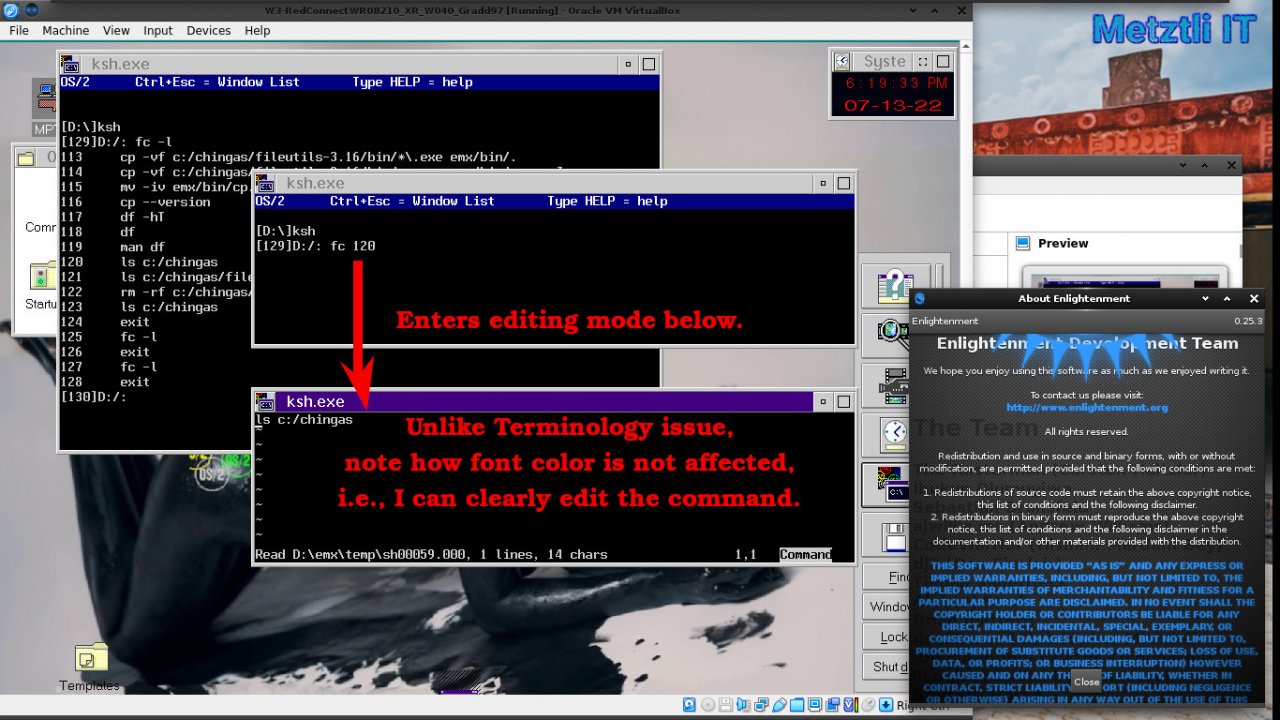 Well, I have reported the Terminology fc issue to its developer. Hopefully, he will not blame the user -- as is usually the case with the Enlightenment lead developer.
Do VirtualBox 6.1.34 Guest Additions work under OS/2 Warp 3 Connect?
No. Period. The (last) OS/2 kernel available for OS/2 Warp 3 Connect was in fixpak 40 -- as far as I am concerned; of course, there is fixpak 43 for the SMP version which kernel I have not tested yet. Notwithstanding, allegedly VirtualBox Guest additions depend on a KERNEL EXECUTION ENVIRONMENT (KEE) extension introduced in the kernels of WSEB and a certain late fixpak for OS/2 Warp Merlin.
The snapshot below shows what happens when the OS/2 Warp 3 Connect boot procedure tries to load the CONFIG.SYS file entries relevant to the VirtualBox proprietary
OS/2 Guest Additions:
DEVICE=X:\OS2\VBOXGUEST.SYS
IFS=X:\OS2\VBOXSF.IFS
where X is the drive letter where OS/2 is installed.
SYS1718: The system cannot find the file KEE specied in the DEVICE statement on line xy in the CONFIG.SYS file...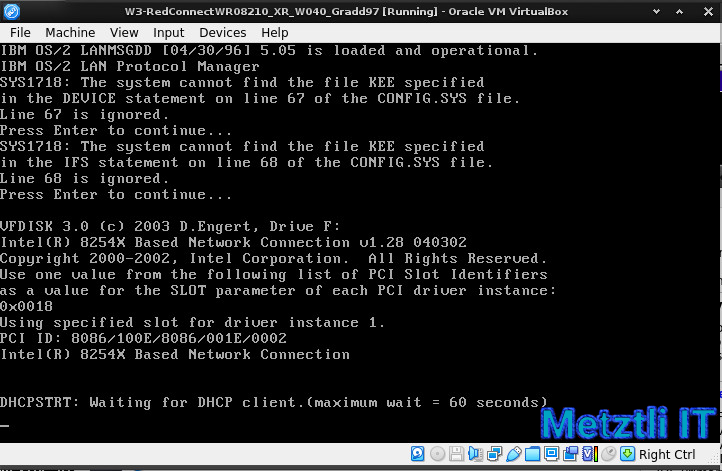 Contrast the above with the proper loading of VirtualBox Guest Additions Driver/IFS for OS/2 version 6.1.34 r150636 under OS/2 Warp 4 with fixpak 15: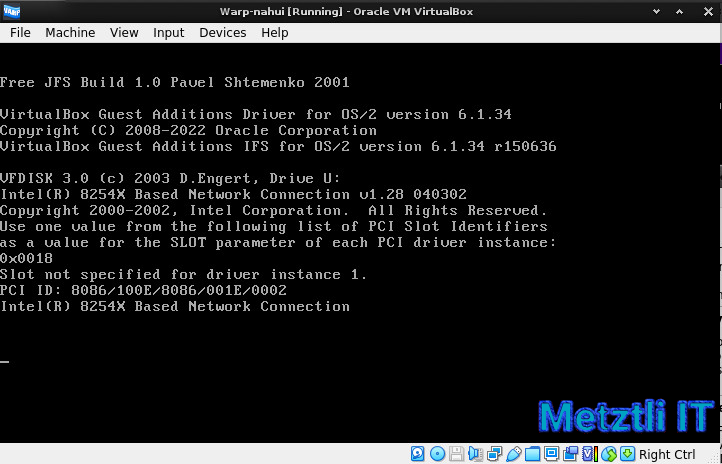 As a matter of fact, one way to check for the KEE extension in an OS/2 kernel is with UNIX util grep -- as in this OS/2 W4 os2krnl:

Shell

We can see the green colored char strings when we utilize grep 3.4 from Netlabs