Datamation Magazine selected the IBM Lotus Symphony productivity suite as 2008 product of the year! Currently, IBM Lotus Symphony Beta 4 is available on the Linux and Windows operating system platforms. Support for the MacOS is in the works.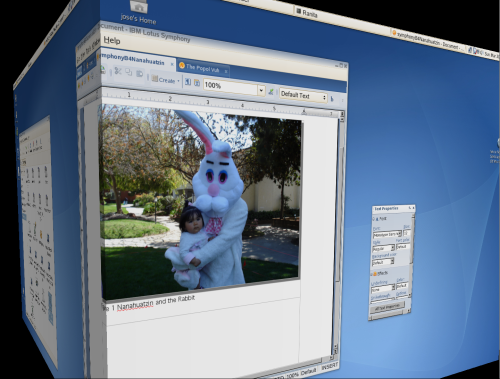 Increasing the home and office productivity application surface area of attack(04-05-2008), from the narrow proprietary only alternative where home and business productivity users usually find themselves encased, might effectively shield users from the incessant flow of malicious attacks --and the complacency of the proprietary office suite monopoly.
As the IBM Lotus Symphony office productivity application nears general availability (GA) status --and as the International Standards Organization (ISO) involved entities elaborate whether to approve MS/Ecma pseudo open office XML p(OOXML) by the end of March 2008-- we learn that some unpatched vulnerabilities in the prevailing monopoly of closed source office productivity applications were known, but ignored, since at least 2005.
The implications should be clear for any office productivity user or IT administrator. Relying on a single vendor that holds monopoly power over a given closed-source application's file formats is the equivalent of being held hostage (by that vendor); that is due to customers' dependency on the monopoly's office suite for their every day office and home productivity tasks.
Oh, yes, the flaw may have been known since 2005, notwithstanding, if the customer wishes to avoid becoming a victim counted for statistical data gathering security firms, her only options are to upgrade to another license of the proprietary operating systems. Since the monopoly's anti-competitive strategy does not offer its proprietary office suite on Linux or Unix, the customer using "...Word 2007, 2003, 2002 and 2000 are at risk, unless they are running Windows Vista or Windows Server 2003, Service Pack 2."
MS Office 2007 OOXML is Not Ecma's Proposed OOXML to the ISO Standards Body.
It follows, consequently, that if pseudo OOXML attains the ISO standard status, the current situation of the customer being held hostage to the proprietary productivity suite monopoly will be extended well into the future. The reason is simple: Ecma's proposed pseudo OOXML to the ISO standards body is not MS own Office 2007 OOXML document format implementation.
In other words, whereas Ecma's proposed pseudo OOXML might be relatively open, though riddled with proprietary and technical uncertainties, MS Office 2007 file formats implementation (a superset of Ecma's pseudo OOXML) will continue to be closed and will differ to a greater or lesser extent from that of Ecma's --effectively maintaining the monopoly's control to the detriment of innovative, more secure, and potentially less costly, competing office productivity suites.
Based on the well known mode of operation by the proprietary office monopoly's past 10-20 year record, MS Office 2007 OOXML implementation --differing from that of ECMA's proposed ISO standard-- will continue obfuscating compatibility at the file format level. That essentially will extend and continue to exacerbate the current collaboration struggles between IT and business units in heterogeneous environments --not only within the same organization but in business to business global interactions.
Those of us who are on Linux and Unix platforms need to exchange information with those on the Windows side, needless to say. IBM Lotus Symphony fills the strategically purposeful void left by MS in their lack of support for a productivity office suite on Linux and Unix. The suffocation of novel competing office suite alternatives based on a true open document format (ODF) ISO standard, like
etc. through a direct control of the file formats (like MS Office pseudo OOXML) not only serves MS anti-competitive strategy, but also holds the customer hostage. Yes, because the customer will continue to be exposed to malicious exploits, judging from the examples cited, since the proprietary monopoly will have the luxury to drag its feet when it comes to patching vulnerabilities in its own product(s).
The professional IBM Lotus Symphony office productivity suite potentially will aid in effectively liberating the customer from that dependency on a single vendor. The customer will likely discover that the IBM Lotus Symphony functionality will match or exceed that of MS Office 2007 and MS older closed source office products. With Lotus Symphony the customer will have the freedom to potentially allocate monetary resources --that were expended for MS proprietary office suite licenses and dependency on that vendor-- into an core aspect of her/his business.
Lotus Symphony is available as an IBM complimentary offering --that is, at no charge for the individual user, the small and medium business (SMB ), or the enterprise customer. It logically follows, nonetheless, that applications compatible with ODF, such as Lotus Symphony, will enable large and small business organizations, government entities, as well as individuals, to engage in true document exchange collaborative activities. ODF, the mature ISO standard, is the enabler of that collaborative exchange among competing office suite implementations; MS Office 2007 OOXML only serves to perpetuate that monopoly's old business model hostage taking approach.
Support for IBM Lotus Symphony Customers.
The customer, or its IT staff, may access the open online forums to find answers and/or resolve issues that her/his organization may experience when using Symphony. Or the customer may elect to acquire support for Lotus Symphony on a paid subscription basis --either from IBM Business Partner organizations like us at Metztli IT (recommended for SMBs), or (large enterprises) directly from IBM.
Whatever the individual or business customer decides, the GA download of the IBM Lotus Symphony will be complimentary and may be deployed at the customer's premises without worry about licensing issues or crippled functionality. It is only if, and only if, the customer insists on a specific kind of support that a paid subscription is relevant when using Lotus Symphony.
Although the IBM Lotus Symphony productivity suite is still in beta stage at the moment, please feel free to download this brochure in Adobe's Portable Document Format. You may also be interested in the early guides available to switch from: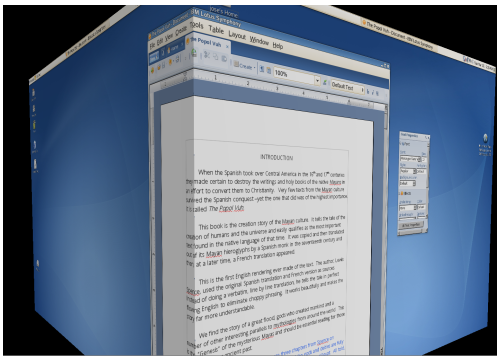 NOTE Information has been provided on good faith and based on current business plans for the IBM Lotus Symphony office productivity suite. Please consider that the business environment is variable in nature; thus the above information may change in the future. Metztli IT reserves the right to modify the informational content without prior explicit notice.