The past meets the present, future, ...and open standards technology is the facilitator. Like the all purpose, operating system agnostic, Java-based Eclipse platform with its plug-in extensions, the IBM Lotus Symphony plug-ins enable the building of bridges between modern world languages and --potentially-- ancient dialects as well.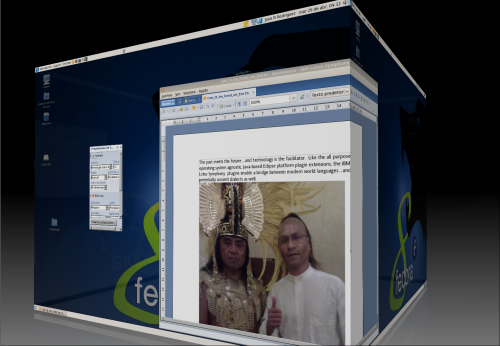 I recently attended my niece's religious service and subsequent celebration party; it marked her 15 years of life on this planet ?her Quince Añera. It is a ritual that purportedly originated, like the Náhuatl language, long before the confluence of the Spanish culture with its American counterpart (1492)--already developed and sustained by the peoples radiating outward from the region now known as México.
Evidently, I had the opportunity to have contact with an dancer who carries forward a spark of the ancestral language and, equally important --the ritual-- for very special occasions.
Although my niece's very own Quince Añera (which symbolizes her passage into womanhood) did not belong to the category of events that demand an unflinching effort on the part of the dancers to perform, the group made an exception. I thank them very much for the privilege of having performed their symbolic dance for my niece. It was very special to her and all of us in the extended family.
Coincidentally, I had become drawn to the planning of a Náhuatl plugin for the nearing general availability (GA) release date (end of May 2008) of IBM Lotus Symphony. The overall aim, of course, is to be able to translate, in either direction, Náhuatl and Spanish ?at the very least; for the intended market is represented by the enormous size of all students of Náhuatl in México. The English language translation issues subsequently would be addressed, plus any other languages that other interested parties desired.
The project preferably is to be open source, if possible, with its inherent open standards so as to collaborate with the world's free and open source (FOSS) communities. Would you care to contribute with the technical and/or linguistic aspects??? Please, let us know with your post.
I have made a similar request at the IBM Lotus Symphony Developers pertinent section.