Tag: "Europe"
By Jose on Nov 20, 2019 | In occidente, europa, Ixachitlal | Send feedback »
Wiphala: symbol of Bolivia's Indigenous Peoples' resistance against USA's coup d'état that toppled their democratically -elected president, Evo Morales,



and to reject the imposition of a fascist christian fanatic, terrorist puppet,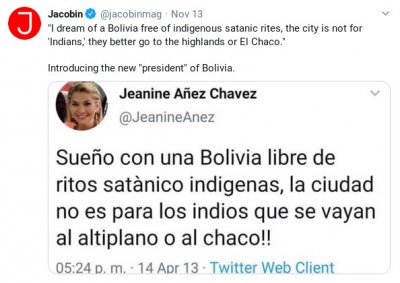 Despite being only partially a descendant of Spanish scum dumped on Abya Yala, Jeanine Añez embraces European ideology.
1
She perpetuates the alien Iberian fascist christian fanatics' racism-loaded term, '
indians
,' which in their sick minds roughly connoted '
untermensch
.'
She will be instrumental in opening Bolivia's natural gas and lithium to be looted by the West's transnationals.
---
Just as in 1492, and onward, when Spanish scum genocidal christian terrorists invaded Abya Yala ['South America'], today in Bolivia, descendants of those natives who were brainwashed into the alien Iberian genocidal cult of christian fanaticism engage in similar terrorism against their own ethnic brothers and sisters: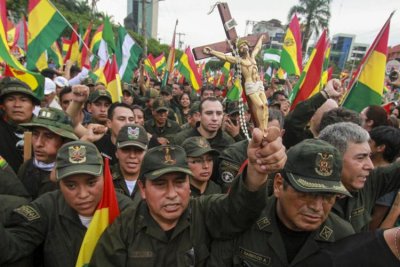 Brainwashed by alien Spanish scum genocidal christian fanatics
(see full clip below)
How the
Organization of American States (OAS) secretary general Luis Almagro's Deception
Enabled the Coup in Bolivia.
Evo Morales on Bolivia's lithium and Socialism.
I would say that some of the groups in whose hands economic power is concentrated cannot forgive us for creating social movements --especially in the indigenous populations' movement-- which has changed the image of our beautiful country.



They also cannot forgive us for nationalizing our natural resources as strategic companies which have improved Bolivia's economic system. Upon the successful creation of a developed lithium industry, Mr. Álvaro [Bolivia's Vice-President] and I planned to set lithium prices on the world market.
But... In the creation myth of West capitalist patriarchy, rich, white, powerful, overhyped narcissist clowns, are the 'creators' and sole owners of human creativity2 ~...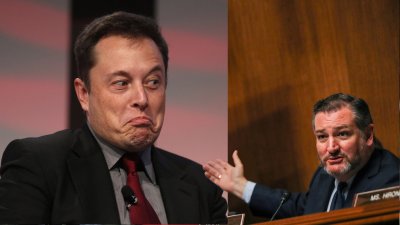 The pot pointing at the kettle
AND if they covet Bolivia's lithium, they believe their lawless hegemon regime is entitled to engage in bribery, deception, and brute force, to topple Bolivia's democratically -elected government of Evo Morales, repress and kill indigenous people --as the latter are tacitly considered 'untermensch' and thus expendable-- when the aim is to loot their resources.



I realized, though, that some industrialized countries are afraid to compete. First, in the field of technological development. And second, they do not want other countries to follow the example of our economic model –which is based on socialism.3



---
CIA engineered coup on behalf of powerful business interests coveting Bolivia's lithium ~ Chris Hedges
An Upside Down World.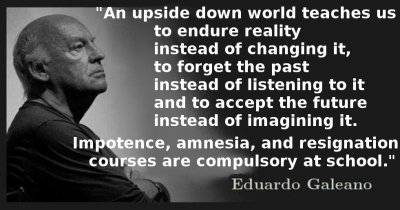 'Impotence, amnesia, and resignation'
First, fascist Europe's Spanish scum invaded to steal the gold, silver, and land... Now Europe's fascist settler spawn coup to steal the lithium.

'We will coup whoever we want! Deal with it.'
---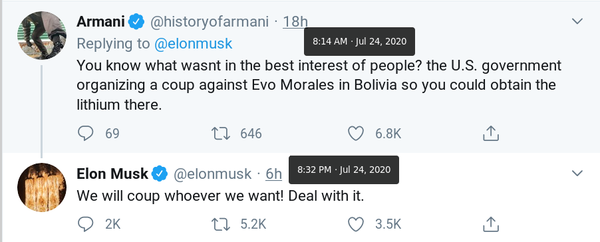 Fascism in all its splendor ↑ .
---
Is Elon Musk complicit in Bolivia's coup?
---
CORPORATOCRACY:
There is no America.
There is no Democracy.
There is only... ... those are the nations of the world, today.3
---
Reference
1 Introducing the new 'president' of Bolivia.
2 We don't need GM bananas for iron deficiency
3 Watch full documentary in scheduled episodes at RT.com ; alternatively, White Pine Pictures and Ventana Film Present a Film by Fred Peabody: The Corporate Coup D'État.
(watch full documentary)
3Make the economy scream