Tag: "orwell"
By Jose on Apr 28, 2019 | In occidente, europa, Ixachitlal | Send feedback »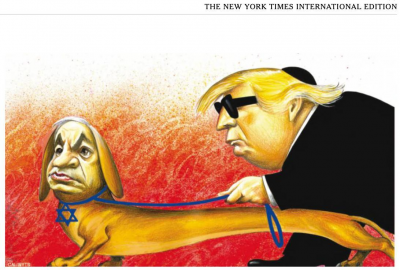 "The New York Times has apologized for printing a cartoon depicting Israeli Prime Minister Benjamin Netanyahu as a guide dog leading an apparently blind Donald Trump."
RT USA NEWS


There are several ways to interpret the cartoon. It is, of course, an insult to dogs to have them depicted in such a fashion as to suggest that they might behave like the monstrous Israeli Prime Minister. No dog would sink so low. One observer, commenting from a dog's point of view, noted that "We canines share that saying that 'the eyes are the window to the soul.' Look into our eyes and you'll see love and trust. Look into Netanyahu's eyes you see cunning and deceit so why stick his head on our body?"
On the other hand, one might see in the cartoon a serious message, that Netanyahu has been able to "wag the dog" with an ignorant and impulsive United States president who is so desirous of pandering to Jews both in Israel and in the U.S. that he [dehumanizes 'Mexicans' and Central Americans in the manner Netanyahu's Zio-fascism besmirches Palestine and Gaza human beings] and is blind to his obligation to do what is best for the American people. Trump, who is the first president within memory not to own a dog, would rather stroke the head of the disgusting casino billionaire Sheldon Adelson than an intelligent and loyal Labrador retriever.
The cartoon was immediately blasted as being 'anti-Semitic,' of course, because the definition of that "hate crime" has now been expanded to include criticism of anything that is even remotely Jewish. The Times twice went into full apology mode, promising never to do anything like that again and implying that heads would roll. The paper's spokesperson stated that the publishers were "deeply sorry" and elaborated that "The image was offensive, and it was an error of judgment to publish it. Such imagery is always dangerous, and at a time when 'anti-Semitism' is on the rise worldwide, it's all the more unacceptable. We are committed to making sure nothing like this happens again."
The NY Times' Rank Dishonesty About What is Happening in Gaza --RI



Nohpalli, symbol of resistance and perseverance for the real Mexicah -- and Palestine / Gaza people, too.
"Israel in Palestine: this is the presence of colonizers connected with imperialism, capitalism, and the common interests of western powers, which has lasted for many years. Israel is part of the West's colonizing system."
Bassem Tamimi (Ahed's father).
Janna isn't just my cousin, she is my friend and my support. If I am arrested again, or anything happens to me, I won't worry because I know people like Janna will continue my work. She will be able to fight for our idea as I did.
We must return to pre-occupation Palestine, a Palestine where Islam, Christians, and Jews, co-existed peacefully. Many Jews share pro-Palestinian views. Our problem is with those who are for Zionism, not with Jews.~
Ahed Tamimi

'For Palestinians living in the valley, the vast majority of which is occupied by the Israeli Army, the daily reality is harassment at checkpoints, water restrictions, systematic house demolitions, and evictions. In essence, to make the life of the Palestinian people a daily living hell!~
As the pusillanimous UK / European politicians voice frivolous statements and feign dismay at the final annihilation of Palestine, they are, in fact, complicit with their fascist ilk, the Zionist land thieves.
---
As the world's attention is fixed on the US Presidential Election 2020 circus, the
criminal, lawless regime Israel, 'demolish 70 Palestinian structures, incl. homes, displacing about 80 Palestinian Bedouin citizens.'
---
---
References:
Longing for Palestine: Art of Resistance
By Jose on Dec 25, 2013 | In occidente, europa, Tlalnepantla, Mexico, Ixachitlal | Send feedback »
El Mensaje de Navidad Alternativo 2013.
~ Edward Snowden
¡Hola y Feliz Navidad!
.
---
Actualización: Snowden hasta hoy, 2020, continua exiliado en Rusia; sin embargo, ya ha solicitado la ciudadanía de ese país que lo acoge y lo protege desde el año 2013. Hay que recordar que ni Canadá, ni el Reino Unido, ni ningún país de la Unión Europea se atrevió a desafiar la ira de EEUU si le otorgaban asilo a Snowden. Sólo Vladimir Vladimirovich Pútin, Presidente de Rusia, aceptó el desafío -- permitiendo que se le otorgara asilo a Snowden -- haciendo caso omiso del berrinche e amenazas lanzadas por las elites fascistas que gobiernan EEUU ante su impotencia de no amedrentar a Rusia.
A beneficio de quienes hablan el dialecto Español por imposición, y no por voluntad propia, he aquí el video de nuevo. Sepayahuitl que significa Nieve en Nahuatl.


Me siento honrado de tener la oportunidad de dirigirme a usted y a su familia, este año.
Recientemente
nos dimos cuenta que nuestros gobiernos
trabajando concertadamente
han creado un sistema de vigilancia masiva a lo ancho del mundo,
viendo todo lo que hacemos.


George Orwell de la Gran Bretaña nos advirtió sobre el peligro de este tipo de información.
Los tipos de colección en el libro -
micrófonos y video cámaras,
Televisiones que nos ven...
no son nada...
en comparación con lo que tenemos disponible hoy en día.


Llevamos sensores en nuestros bolsillos
que nos rastrean a donde quiera que vamos
Piensen acerca del significado de esto
concerniente a la privacidad de la persona promedio.


Una criatura nacida hoy en día
se criará sin concepción alguna de privacidad.
Nunca sabrán el significado de tener un momento privado para si-mismos
...un pensamiento no registrado e analizado.
Y ese es un problema
porque la privacidad importa.
La privacidad es lo que nos permite
determinar quienes somos
y quien queremos ser.


La conversación que se lleva a cabo actualmente
determinará el nivel de confianza
que podemos otorgar a ambas:
la tecnología que nos envuelve,
y el gobierno que la regula.


Juntos
podemos encontrar un mejor balance
terminar vigilancia en masa.
Y recordarle al gobierno
que si realmente desea saber nuestro sentir
el preguntárnoslo es siempre mas barato
que el espiarnos.


A todo aquel escuchándome
gracias
y feliz navidad.
---
Referencias:
Subtitulos en Españotli creados con MEncoder
Traducción basada en: A Christmas Message From Edward Snowden (VIDEO)